Interview day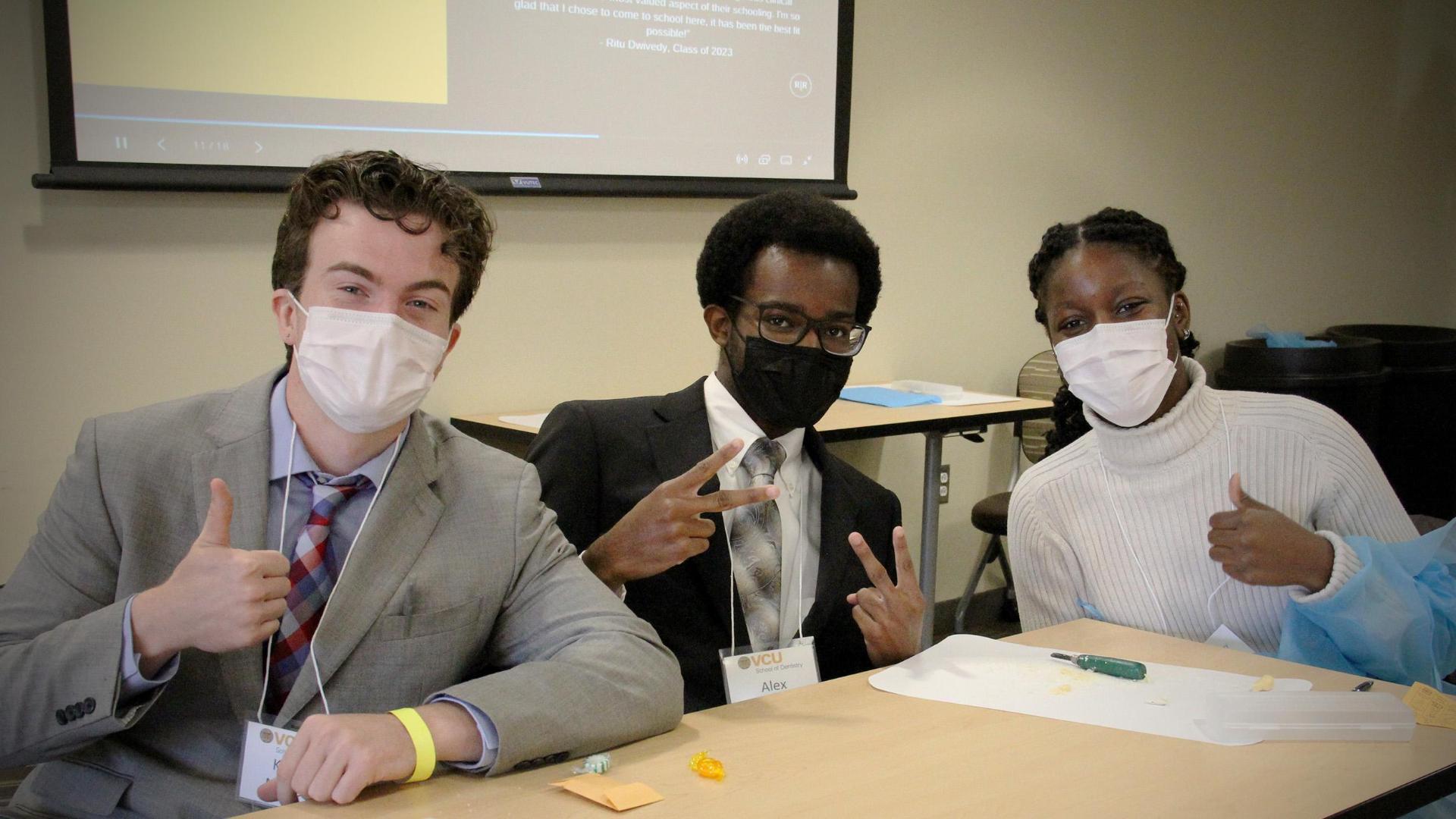 What can you expect on interview day at VCU School of Dentistry? This webpage will answer all of your questions and MORE! Interview days typically begin around 8:00 a.m. and conclude around 3:30 p.m.
A light breakfast and lunch will be provided.
During your time at the school you will have the opportunity to:
Tour the school (wear shoes you are comfortable walking in)
Eat lunch with current dental students
Learn about the curriculum
Learn about the financial aid process
Carve a tooth out of wax
Participate in a 30 minute interview (2 faculty and 1 candidate)
Writing sample activity
Feel free to bring samples of any psychomotor activities with you to the interview. These may include, but are not limited to, paintings, small carvings, or short videos of yourself playing a musical instrument. Your attire should reflect the professional nature of this interview. Candidates will receive further communication via email as their interview date approaches.
How to get to VCU School of Dentistry
You may park in the 8th Street Parking Deck located at 659 North 8th Street for $16 per day. You may wish to use one of the following transportation services once you arrive in Richmond or both Uber and Lyft are readily available.
Groome Transportation (804) 222-7226
Veteran's Cab: (804) 275-5542
Yellow Cab: (804) 222-7300
Where to stay
Downtown Richmond offers a wide variety of lodging locations. Make sure to ask if the hotel offers a VCU visitor rate and if they have a shuttle to and from the School of Dentistry for your convenience!
Honor system
You will be held to the VCU Honor System beginning with your interview date until you receive your final status and through the entire program if you are accepted. Please familiarize yourself with the VCU Honor System.
Integrated National Board Dental Exam
Research
The VCU School of Dentistry is committed to contributing to the development of new knowledge in the areas of oral health and education, providing opportunities for faculty, dental and dental hygiene students, postgraduate students and dental residents to participate in research. VCU School of Dentistry ranks 17th among U.S. dental schools in National Institutes of Health research funding. Please visit the following links to learn more about research being conducted at the School of Dentistry.
Computer requirements
Many aspects of your dental education will be provided through some form of technology. To provide a stable and reliable platform for academic and clinical operations, the School of Dentistry has standardized computer requirements for students. Students entering the School of Dentistry will be required to purchase a specially-configured laptop. This laptop will be preloaded with standard software used at the School of Dentistry and compatible with all of our educational technologies and electronic clinical processes.
Richmond, VA
Discover all that Richmond and the state of Virginia have to offer by exploring some of the following links.