Frequently Asked Questions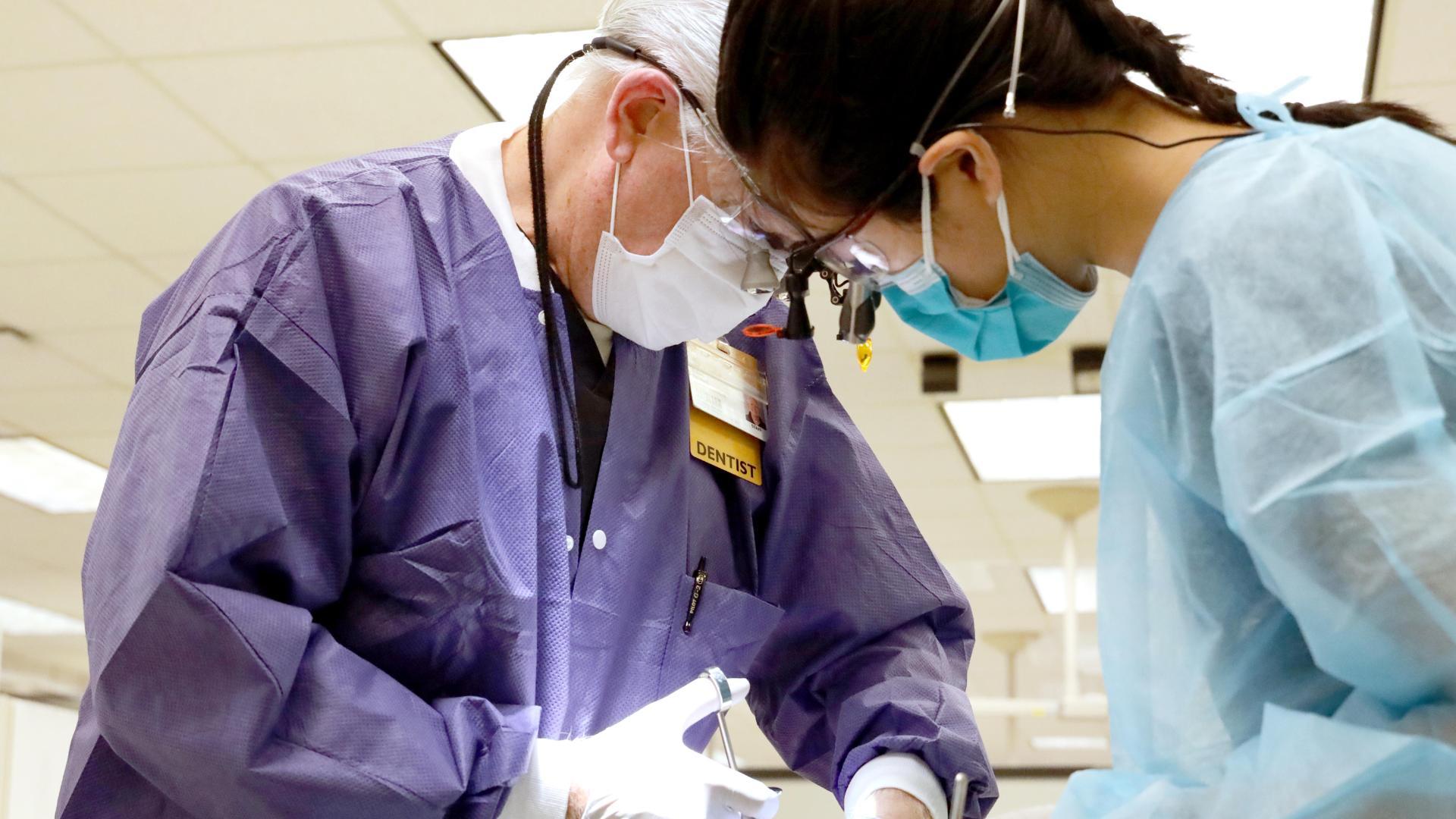 Applying to the VCU School of Dentistry
When is the best time to apply to dental school?

Applications are available through the

Associated American Dental Schools Application Service (AADSAS) website

beginning the first week of June of each year. To apply to the VCU School of Dentistry, applications must be submitted to AADSAS by Jan. 1. However, prospective candidates are greatly encouraged to apply by Sept, 1, as the admissions process is very time intensive. AADSAS processing takes four to eight weeks after your application, transcripts and payment are received.

If I am reapplying through AADSAS, do I need to submit an entirely new application?

Yes. Data from the previous application is not carried over to the new application cycle.

Am I required to complete all courses before applying to dental school?

The answer is "no"; however, all courses must be completed prior to entering dental school. Generally, VCU expects to see most prerequisites completed with only one or two planned between applying and matriculating, if accepted. Most applicants will begin the application process after they have completed their third year of college; therefore, the first semester grades of senior year will not be available for the initial application. Once the fall semester of senior year has been completed, applicants should complete an academic update through AADSAS. It is the applicant's responsibility to submit their spring semester final grades directly to our school.

How many hours of shadowing does VCU require?

To gain an understanding and strong appreciation for the dental profession, we strongly encourage a total of 100-150 hours of general practice shadowing in addition to any specialty practice shadowing prior to submitting your application. Please keep in mind that shadowing hours cannot be updated after submitting your AADSAS application. Shadowing should begin early and future hours will not be counted.

How do I check the status of my application once it has been submitted?

You can view the status of your application to VCU School of Dentistry by logging into the VCU School of Dentistry Applicant Status Portal. This will tell you if your application is complete or if you need to send additional information.

Does VCU Dentistry have a supplementary application?

Yes. A supplementary application will be sent to candidates who are invited to interview.

How many letters of evaluation are required and is there a limit to the number of evaluations that can be sent?

VCU requires a minimum of three letters of evaluation, at least two of which must be from life-science professors and one from a dentist practicing in the United States or Canada who knows the candidate's professional abilities through direct observation through shadowing or volunteer work. AADSAS accepts and processes a maximum of four individual letters of evaluation. VCU accepts additional letters of evaluation from science faculty or people who know the candidate well and can give a testimonial of the applicant's abilities. VCU has no upper limit imposed on the number of evaluations; however, the number should not be excessive. Letters from people who do not know the candidate personally are discouraged. The admissions committee completes the verification of letters.
Note: If the course has a teaching assistant or laboratory instructor who has taught the candidate and has knowledge of the candidate's abilities in the course, then a letter from that person countersigned by the course director is acceptable.
VCU and the Dental Admission Test
What is the average DAT score?

Over the past several years, DAT scores have been increasing. The academic average of incoming VCU students is 20.

Can I apply to AADSAS prior to taking the DAT?

Yes. VCU will accept applications without DAT scores but will not review those applications until DAT scores are received. Applications with unofficial DAT scores will not be reviewed. If an applicant retakes the DAT, scores will automatically be updated in AADSAS; however, we request that the applicant notify us by emailing

denadmit@vcu.edu

after they have retaken the DAT.

When is the best time to take the DAT?

Most students in a traditional four-year undergraduate curriculum take the test in the spring of the year preceding their anticipated date of entry into dental school. Many students decide to take the test soon after completing the biology and chemistry courses that appear on the DAT. This can occur as early as the end of their sophomore year of college but more commonly at the end of their junior year.

How long are DAT scores valid and how many times can the test be taken?

Changes in recent regulations from the

American Dental Association

(ADA), which administers the DAT, has limited the number of exams to three. DAT scores must not be more than three years old at the beginning of the application cycle in which you are applying.

Does the VCU School of Dentistry accept Canadian students and are the Canadian DAT scores acceptable?

The answer is "yes" to both questions; Canadian students are encouraged to apply.

We no longer require the "manual dexterity" test section of the Canadian DAT exam.
The Interview Process
Do you interview all of your applicants?

No. From the pool of applicants, competitive candidates are selected to interview by invitation only.

An interview is mandatory for acceptance; however, an interview does not guarantee that a candidate will be offered a position in the class.

What is the interview process like?

The VCU School of Dentistry interview process begins mid-September and runs through the following February. There is a break for the holidays from the second week of December until the first week in January. Details about the interview day will be given to those who are invited to interview.

Can I bring my spouse or relatives to the interview?

No. The candidate may be accompanied to the VCU School of Dentistry, but their visitor will not be able to participate in

any

of the day's activities.

What is the correct attire for the interview?

Since a dental school is a professional environment, candidates should dress accordingly. Men should wear suits or sport coats with ties and women should wear suits or dresses. Attire such as blue jeans, miniskirts, shorts, flip-flops and tennis shoes are not recommended.
Applicants and Accepted Students
Does the VCU School of Dentistry accept international students?

Throughout the years, the VCU School of Dentistry has had contracts with foreign countries to train their students for dental careers in their homelands. These students are contracted to attend VCU for their English as a Second Language program and their pre-dental courses. The time duration for this segment is three to four years. Then these students apply to the VCU School of Dentistry through the AADSAS application service and must meet all admission criteria established for acceptance.

The school also has special programs for students who have completed a dental degree in another country. Please see the International Dentist Program.

How many people apply each year to the VCU School of Dentistry?

For the past few years, there have been between 2,300 and 2,500 applicants per year.

What is your class size and how many students are Virginia residents and non-residents?

The maximum class size is 95 students, with the ratio of residents to non-residents varying each year.

What are the average overall GPA and average science GPA scores for accepted students?

An overall GPA of 3.6 and a science GPA of 3.6 has been fairly consistent for the past few years.

Does the VCU School of Dentistry accept transfer admissions?

On rare instances the School of Dentistry will consider a student for transfer from a U.S. or Canadian dental school if a space is available at the beginning of the second year of dental school (D2 class) and a perfect match exists between the curricula of both schools. A

course curriculum

for the first year of dental school must be completed when you submit a Transfer Interest Form.

The student must be in excellent academic standing at the transfer school and is required to have letters of evaluation from the school's academic dean and other faculty.

In addition, the student must have a valid reason for his or her desire to transfer to the VCU School of Dentistry. He or she must not be involved or have been involved in any academic or honor code violations. Copies of a student's original

ADEA Associated American Dental Schools Application Service

(

AADSAS) documents may be used to support his or her transfer material. The Admissions Committee will judge each case on individual merit. If the merit is accepted or approved by the Admissions Committee, each applicant will be contacted by email in December or January to complete the remaining documentation needed for transfer admissions review and for a possible interview.

What about immunizations?

VCU is committed to ensuring a safe environment for students and the patients they serve. As such, all new students who will have patient contact as part of their program of study are asked to return the newly revised VCU Health Sciences Student Immunization Requirements form. Students are strongly encouraged to complete immunization requirements prior to the start of classes to prevent future registration holds.
What is the D.5 program?
The D.5 program was initiated approximately 20 years ago for students who had made an application to dental school, but were not successful in gaining admission. Some of these applicants showed great potential toward being a dentist. However, certain factors, such as lower GPA, weaker DAT scores, many years without taking college courses and other factors, negated them from being a viable candidate.
This program was created to have these applicants take certain selected science courses from the freshman curriculum to have them prove their ability to succeed in professional school courses. Four science courses – Mammalian Physiology, Neuroanatomy, Microscopic Anatomy and Infection and Immunology – were selected. The strict requirement for success is a mandatory minimum grade of B in each course.
If this is achieved, the prospective student would have a greater potential of being accepted into the following year's freshman class and they would also be exempt from these four courses. However, if a grade of lower than B was achieved in any of these courses, they would not be considered for entrance into the new freshman class. The students selected for the D.5 program usually have strong science backgrounds, excellent interpersonal skills and dental experiences.
The director of admissions and the admissions committee select a very limited number of D.5 candidates from the pool of interviewed applicants.
Miscellaneous
How much does it cost to attend the VCU School of Dentistry?

The VCU Division of Strategic Enrollment Management provides a

calculator

that can be used to research the estimated per-semester cost of attending VCU. The website also presents a breakdown of fees applicable to various university programs.

Does VCU accept AP courses?

Advanced Placement courses can be credited towards pre-dental requirements as long as the credit appears on an official transcript from an accredited university/college in the U.S. However, courses will be evaluated on a case by case basis.

What are some useful websites?

Following is a list of useful websites:

Integrated National Board Dental Examination (INBDE) quick facts

The Class of 2023 will be required to take the INBDE, not Part I & II of the National Board Dental Examination (NBDE).

500 questions administered over 1 1/2 days.

Policies & procedures will mirror the NBDE, for example if a student does not pass they must wait 90 days to re-challenge.

Candidate administration guide and cost will be published in December 2019.

The examination is viewed by field test candidates as an improvement over the NBDE Part II in many ways.